PRESSURE & TEMPERATURE RATINGS
| | |
| --- | --- |
| Working Pressure | 16bar / 25bar |
| Shell Testing Pressure (x1.5) | 24bar / 37.5bar |
| Seat Testing Pressure (x1.1) | 17.6bar / 27.5bar |
| Working Temperature | -10°C … 120°C |
| Suitable Media | Water |
Part
Material
Specification
Body
Ductile Iron
EN-JS 1050
Bonnet
Ductile Iron
EN-JS 1050
Stem
Stainless Steel 410(DN65…DN300)
Stainless Steel 431(DN350…DN600)
EN 10088-3 1.4006
EN 10088-3 1.4057
Balancing Cone
Ductile Iron
EN-JS 1050
Disc
EPDM coated DI
EN-JS 1050
Gland
Brass (DN65…DN150)
Ductile Iron (DN200…DN600)
EN 12165 CW617N
EN-JS 1050
Gland Nut
Brass
EN 12165 CW617N
Orifice Insert
DZR Brass
EN 12165 CW602N
Measuring Plug
DZR Brass
EN 12165 CW602N
Handwheel
Ductile Iron
EN-JS 1050
Packing
Graphite
Non-Asbestos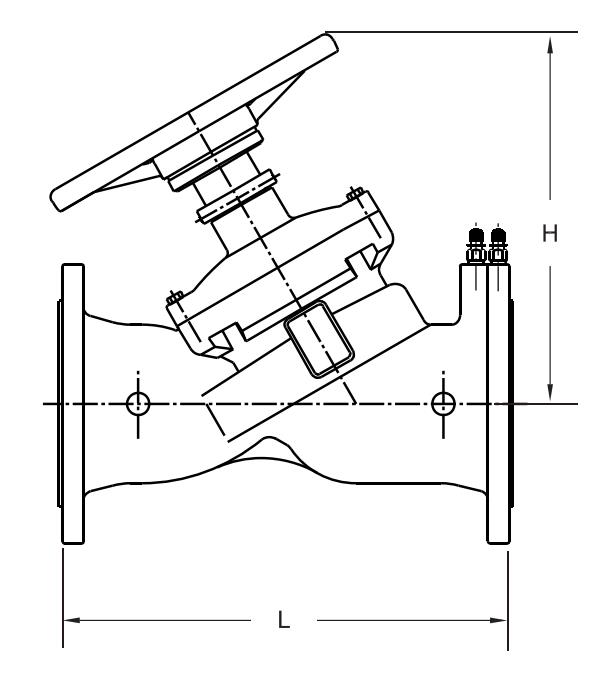 DN
(mm)

(inch)

65

21/2

80

3

100

4

125

5

150

6

200

8

250

10

300

12

350

14

400

16

450

18

500

20

600

24

L
290
310
350
400
480
600
730
850
980
1100
1200
1250
1450
H
265
270
310
340
340
537
570
690
685
965
1020
1065
1180
D
200
200
240
290
290
350
420
420
420
640
640
640
640
Kvs(Fully Open)
104
116
213
333
476
768
1153
1743
1798
2338
2698
3708
4500
Handwheel Turns
8
8
8
8
8
12
12
18
18
24
24
24
24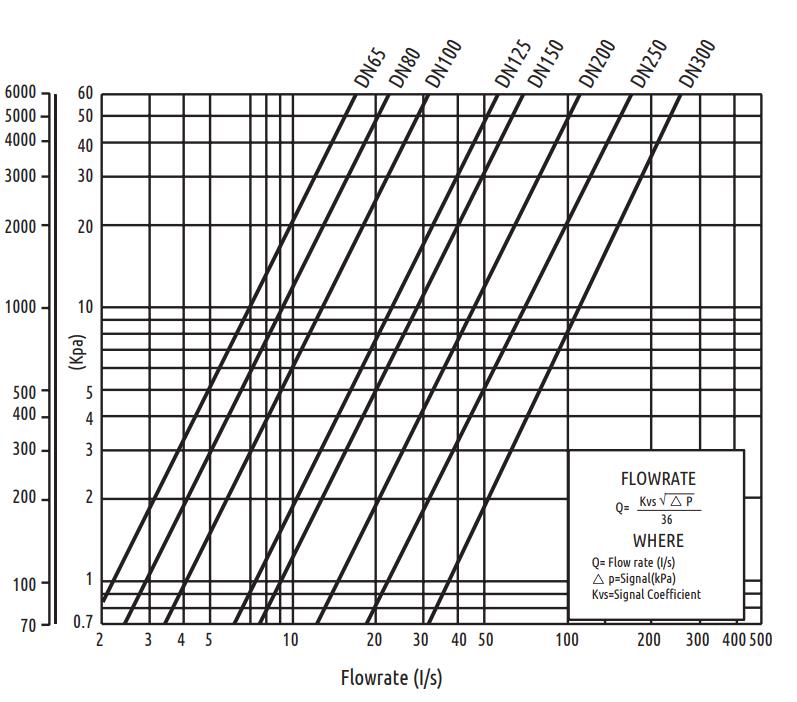 DN
(mm)

(inch)

65

21/2

80

3

100

4

125

5

150

6

200

8

250

10

300

12

Kvs
104.00
116.00
213.00
333.00
476.00
768.00
1153.00
1743.00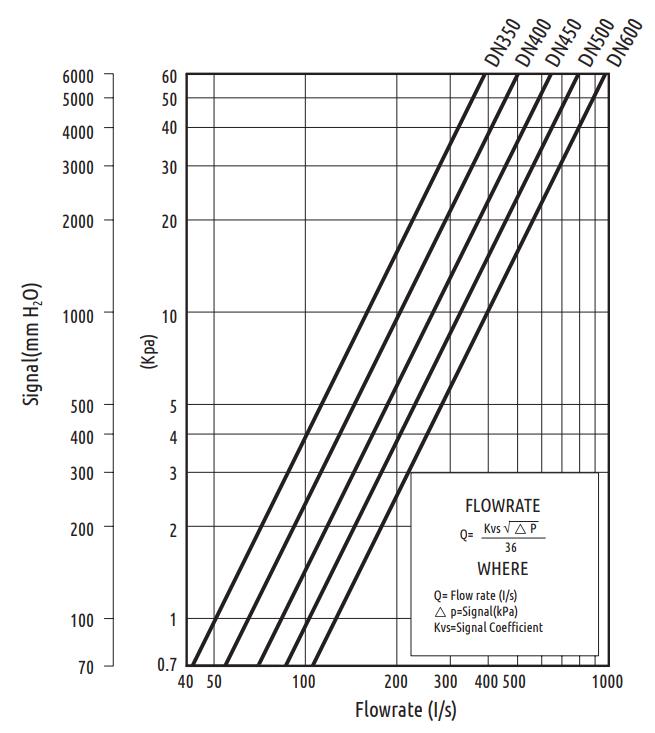 DN
(mm)

(inch)

350

14

400

16

450

18

500

20

600

24

Kvs
1798.00
2338.00
2698.00
3708.00
4500.00
INSTALLATION & OPERATION GUIDE
Install the Double Regulating Valve in the pipe line by ensuring the arrow marking on the valve is same direction as piping flow.
To achieve flow measurement accuracy, it is essential that the piping on the inlet and outlet of the valve is straight and has a minimum length equivalent to 5 Diameters (5D) inlet and 2 Diameters (2D) outlet as shown. If the valve is install at the discharge side of a pump set, it is essential that the straight pipe length between pump outlet  and valve has a minimum length of 10 Diameters (10D).
Gaskets must be used and assembled between valve and flanges. This will ensure the installation is concentric with pipe line and better accuracy is obtained.
Design flow is achieved by pre-setting valve's opening position, which could be read from scales at the handwheel. Contact your local distributor for information on electronic commissioning meter.
To lock the pre-setting of the valve, push the limitation ring at the scales at the bottom of the handwheel, tighten the screw using the hexagon wrench.
Valve must not be lifted by holding the handwheel.