SMC actuators can be controlled individually or collectively. It can be operated locally or via a remote controller. In addition to the
basic models, there are other models such as Explosion-proof (Explosion-proof Grade dllBT4), Integral, Integral Explosion-proof,
Radiation-proof, Auto-Regulation, Two-Wire, Two-Speed Control, etc.Various actuators of different protection classes such as
Water-Resistant, MarineType, Fire-Proof are available on request. With a wide range of selection, SMC series of actuators are able
to meet various requirements.
| | |
| --- | --- |
| Ambient Temperature | -20°C…55°C |
| Relative Humidity | Max. 90% |
| Sea Level Height | Max.1000m |
| Working Conditions | Without flammable, explosive, corrossive medium |
| Protection Class | IP65(IP68 for Submarine Type, To Specify When Order) |
| Power Supply | 380V, 50Hz |
Model
Output Torque (N*m)
Thrust Allowed
(kN)
Max. Stem Diameter
(mm)
Output Speed
(r/min)
Motor
(kw)
SMC-04
110
35
24
20

35

0.2

0.3

SMC-03
270
45
36
18

27

0.4

0.6

SMC-00
500
90
50
24

42

1.1

1.5

SMC-0
970
150
65
18

31

1.5

2.2

SMC-1
1800
250
76
12

18

2.2

3

SMC-2
2700
300
89
10

18

3

4
SMC-04 & SMC-03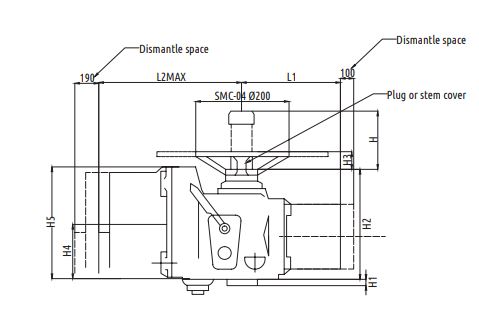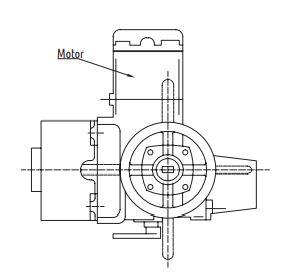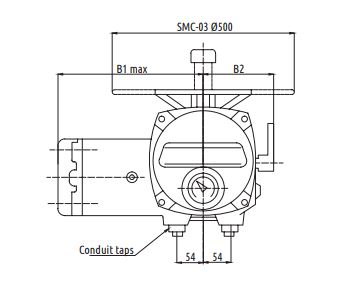 | | | | | | | | | | |
| --- | --- | --- | --- | --- | --- | --- | --- | --- | --- |
| Model | L1 | L2 | B1 | B2 | H1 | H2 | H3 | H4 | H5 |
| SMC-04 | 185 | 346 | 243 | 140 | 3 | 212 | 35 | 108 | 213 |
| SMC-03 | 202 | 373 | 387 | 198 | 3 | 259 | 43 | 134 | 239 |
SMC-00 , SMC-0 , SMC-1 & SMC-2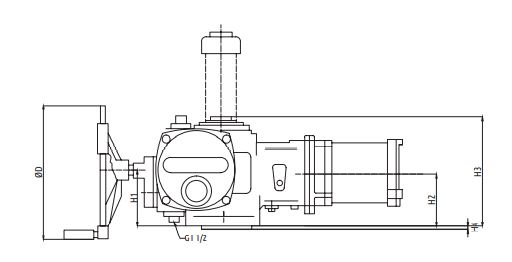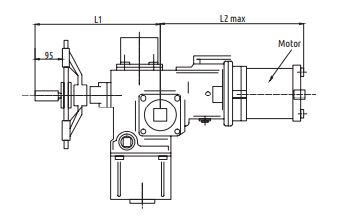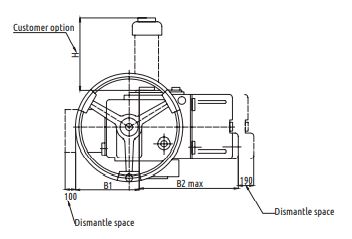 | | | | | | | | | | |
| --- | --- | --- | --- | --- | --- | --- | --- | --- | --- |
| Model | L1 | L2 | B1 | B2 | H1 | H2 | H3 | H4 | D |
| SMC-00 | 392 | 519 | 251 | 364 | 123 | 115 | 253 | 4 | 305 |
| SMC-0 | 410 | 529 | 273 | 367 | 153 | 132 | 285 | 5 | 305 |
| SMC-1 | 429 | 623 | 304 | 393 | 168 | 148 | 310 | 5 | 305 |
| SMC-2 | 457 | 697 | 333 | 418 | 184 | 158 | 358 | 5 | 458 |