PRESSURE & TEMPERATURE RATINGS
Working Pressure
16bar
Shell Testing Pressure (x1.5)
24bar
Seat Testing Pressure (x1.1)
17.6bar
Working Temperature
-20°C … 110°C (EPDM)
-10°C … 80°C (NBR)
Suitable Media
Water, Oil, Gas
Part
Material
Body
Ductile Iron
Disc
Ductile Iron
Aluminium Bronze
Stainless Steel 304
Stainless Steel 316
Stem
Stainless Steel 410
Stainless Steel 431
Seat Ring
EPDM / NBR
O-Ring
EPDM / NBR
Bushing
Bronze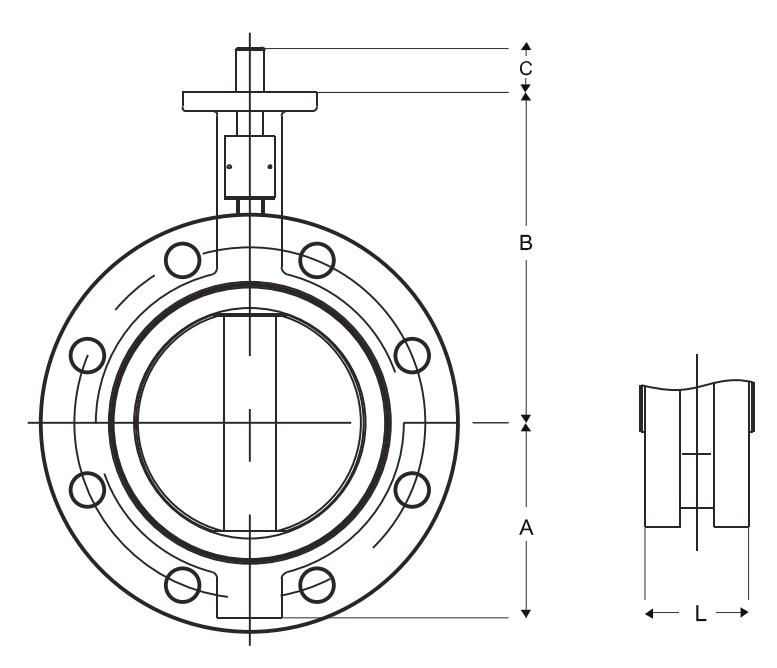 DN
(mm)

(inch)

150

6

200

8

225

9

250

10

300

12

350

14

375

15

400

16

450

18

500

20

550

22

A
133
175
190
201
242
267
320
316
344
380
432
B
226
260
275
292
337
368
375
400
422
480
533
C
30
34
34
34
34
40
52
 52
52
64
70
L
55
60
67
67
76
76
102
102
114
127
151
DN
(mm)

(inch)

600

24

650

26

700

28

750

30

800

32

900

36

1000

40

1050

42

1100

44

1200

48

A
468
484
530
564
602
661
724
784
804
869
B
562
540
626
660
666
722
806
865
820
938
C
70
70
95
95
95
130
130
150
150
150
L
151
172
165
167
188
203
216
251
252.5
276

Cast Iron 1 – Stage Worm Gear and Handwheel
Carbon Steel Gear Box Shaft
| | | | | | | | |
| --- | --- | --- | --- | --- | --- | --- | --- |
| Valve Diameter | D1 | ø |  H | H1 | L1 | L2 | L3 |
| DN150 | 90 | 150 | 33 | 70 | 216 | 45 | 127 |
| DN200…DN250 | 125 | 285 | 36 | 76 | 303 | 63.5 | 170 |
| DN300…DN350 | 125 | 285 | 40 | 79 | 300 | 80 | 190 |
| DN375…DN400 | 175 | 385 | 79 | 323.5 | 300 | 80 | 190 |
| DN450…DN550 | 175 | 390 | 108 | 251 | 397/427 | 120 | 279 |

Cast Iron 2 – Stage Worm Gear and Handwheel
Carbon Steel Gear Box Shaft
| | | | | | | | | | |
| --- | --- | --- | --- | --- | --- | --- | --- | --- | --- |
| Valve Diameter | D1 | ø |  H | H1 | L1 | L2 | L3 | L4 | L5 |
| DN600…DN650 | 210 | 285 | 125 | 271 | 107 | 100 | 156 | 168 | 107 |
| DN700…DN800 | 300 | 425 | 149 | 378 | 146 | 140 | 197 | 230 | 146 |
| DN900…DN1050 | 300 | 425 | 185 | 409 | 201 | 196 | 203 | 279 | 201 |
| DN1100 | 350 | 425 | 185 | 409 | 201 | 196 | 203 | 279 | 201 |
| DN1200 | 350 | 425 | 216 | 423 | 185 | 240 | 203 | 311 | 255 |
INSTALLATION & OPERATION GUIDE
1. Ensure sufficient space for valves for easy installation, operation, maintenance and replacement.
2. Verify the valves are suitable for the operating condition such as medium, operating pressure / temperature, etc.
3. Check the I.D. of the flange and pipe to ensure free disc movement.
4. Valves shall be mounted on flanges only after the counter flanges have been welded to pipe and cooled down to the atmospheric temperature. Welding heat may damage the rubber seat of the valves. Never weld the flanges with valves installed. No gasket is required for installation of rubber seated butterfly valves.
5. Position the valves carefully between flanges. Accurate centering between flanges is essential to prevent any damages and
problems during operation.
6. Valves should be installed by placing bolts through the hole and tightening carefully, ensuring even contact between the flange and seat. Too tight of space may cause damages to the seat and should be avoided.
7. Cross tighten all the bolts diagonally to distribute the loads evenly over the valves.
8. Turning the valves to ensure sufficient disc clearance.
9. Valves equipped with manual operators must be operated manually. Excessive external force on the operation of valve may
damage the valve and / or operator.
10. Blind flange with short pipe should be used for dead end installation.